The team at Bright Horizons Haydon Hall Montessori Day Nursery have been awarded their STAR (Standards and Training Accreditation Review) certificate by Montessori Global Education.
The STAR accreditation is a global, professional recognition framework, which sets out to highlight excellence in Montessori and Montessori-inspired educational provision and delivery. It acknowledges high-quality teaching in nurseries and schools, and expects each educator to show a commitment to professional development, as well as maintaining and developing the quality of support, and teaching.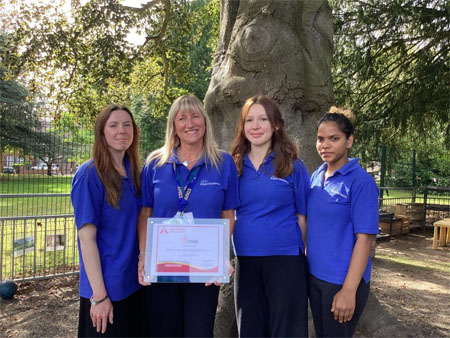 The nursery received its inspection in June 2023, which led to a successful accreditation report in Phase One of the STAR framework. The report is based on a review of information submitted by the setting (including self-assessment evidence) and additional evidence gathered throughout the assessment process, including desk-based materials, discussions, interviews, and on-site visits.
Some of the key reasons for Haydon Hall Montessori Day nursery achieving their accreditation were noted in the final report, which stated that:
"The setting is committed to provide a rich and nurturing holistic learning environment for every individual, from the home cooked daily meals, the well-equipped classrooms, their values and principles along with a dedication to continual growth."
"All members of staff demonstrate a good understanding of how to facilitate and support young children's learning in a spacious, carefully prepared and welcoming learning environment, where children have opportunities to explore and discover at their own pace."
"There is a well-established partnership between teachers and families at Haydon Hall. All members of staff are dedicated to creating a welcoming and supportive learning environment."
"There is a general sense of calm and inclusivity throughout the setting, with staff demonstrating positive and encouraging behaviour."
George, Nursery Manager at Bright Horizons Haydon Hall Montessori Day Nursery said: "Having STAR accreditation assures our families that we are a recognized Montessori setting and part of a wider network of excellence. It's a great testament to our amazing team of practitioners, who work tirelessly to provide quality teaching opportunities for our children every day. We want to continue to provide a safe environment with teachers who are dedicated to supporting their children's natural development pathway."
The curriculum in use at Bright Horizons Haydon Hall Montessori Day Nursery is in place across all Bright Horizons nurseries in England. It is called Bright Beginnings and was designed to acknowledge the individual voice and needs of each child to promote confidence, wellbeing, and a genuine love for learning. The Montessori Approach to teaching is used to deliver the Bright Beginnings Curriculum, so parents can be assured that at Haydon Hall, their children get 'the best of both worlds'.
If you are interested in a career at Bright Horizons Haydon Hall Montessori Day Nursery, then you can find all vacancies on their careers page.