World Book Day was created by UNESCO in 1995 to promote books and reading for pleasure, and to instil a life-long habit and love of reading onto children, particularly those from disadvantaged backgrounds where reading for fun may be less accessible. Traditionally, children of all ages up and down the country dress up as their favourite characters and receive tokens exchanged for a free book of their choice.
This year, World Book Day fell on March 2 and children at Bright Horizons certainly got into the spirit! Here's a look at how some of our nurseries took part in the day.
Purley Day Nursery and Preschool
Amongst the characters celebrated at Purley was a Very Hungry Caterpillar and also Harry Potter. Nursery manager Gemma said, "As you can see our little book worms have made a brilliant effort to dress up as their favourite book characters, we have a had a great day singing, using puppets to act out our favourite stories and shared some of our favourite books together!"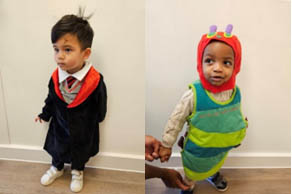 Bright Horizons Eastleigh Day Nursery and Preschool
The children at Eastleigh nursery had a wonderful day dressing up, playing games and of-course, reading. The nursery team dressed up as characters from Alice and Wonderland and even had a 'Mad Hatter's tea party' with Tweedle-dee and Tweedledum both in attendance.

Surbiton Day Nursery and Preschool
Deputy nursery manager at Surbiton, Krissa, said "The Children at Surbiton Day Nursery and Preschool had a fabulous day celebrating World Book Day, they came in as their favourite book characters and engaged in opportunities connected to the characters in their chosen stories. All the rooms have explored new books and enjoyed using props to aid them in their storytelling."

Bright Horizons Romsey Day Nursery and Preschool
At Romsey Nursery, the team were as eager to show off their world book day outfits as the children were. Group costumes included Cat in the Hat alongside Thing 1 and Thing 2, as well as Little Red Riding Hood and the Big Bad Wolf.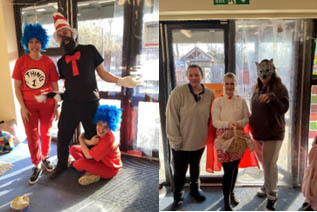 Frimley Green Day Nursery and Preschool
Frimley Green also had a great day celebrating all their favourite storybooks and characters. Amongst the bunch were Elmer the Patchwork Elephant and the Gruffalo. Nursery manager Lynsey said, "It was such a lovely day had by all celebrating World Book Day – Well done Frimley Green!"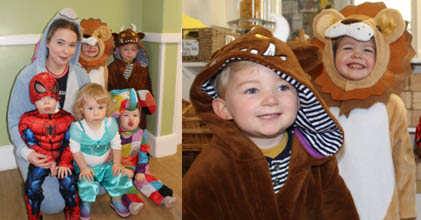 Creating a love for books is part of the overall Bright Beginnings Curriculum in place at Bright Horizons nurseries. The curriculum is designed to acknowledge the individual voice and needs of each child to promote confidence, wellbeing, and a genuine love for learning. It features "loose parts," encouraging children to play freely with everyday items, whilst being supervised at all times, to enable them to develop creativity, solve problems and make connections in their learning. Children are also provided with opportunities to engage in sensory experiences through art by using big paint brushes, paint rollers and floor brooms or mops on a large canvas. This type of activity is essential to develop the muscles in a child's shoulders, elbows, wrists, and hands, in preparation for writing.