Bright Horizons are proud to be working in partnership with NCT by sponsoring their Bumps & Babies groups and Cheeky Monkey Tea Parties. This will see our nurseries and their local NCT branches working together to offer you any additional support you may need.

It is NCT's mission to ensure you have the best possible experience of pregnancy, birth and early parenthood. This makes them an ideal organisation for us to partner with as we aim to make a positive difference in the lives of both you and your child.

Our nurseries support this mission by providing a safe and loving environment for your child to explore, learn, have fun and feel supported in all their steps ahead, both big and small.

With over 300 nurseries across the UK, Bright Horizons have been trusted by families to provide their children with exceptional care and education for over 30 years.

Who are the NCT?
National Childbirth Trust is a UK charity that supports parents through the first 1,000 days of parenthood. They aim to achieve this through sharing knowledge, creating networks, and harnessing voices. Have a look below on how we apply these three principles in our nurseries every day.




Sharing knowledge
We understand there can be a lot of advice out there about childcare and parenting. This is why our highly trained childcare professionals are experienced in providing concise and useful information for you to consider when making family decisions. From weaning to key milestones, if you have any questions about your child, please ask our team, as childcare is our passion and we are always happy to assist you.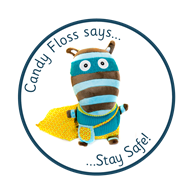 Harnessing voices
We believe in using our voice for good by educating children on keeping everyone safe. The earlier we can instil positive safety habits the better, which is why we introduced Candy Floss—our unique health and safety superhero—to our nurseries. Candy Floss is there to support your child in understanding the importance of safety, and acts as a visual aid in our nurseries so they remember to manage risk and develop essential lifetime safety behaviours.


Creating networks
Forging friendships is crucial when raising a young child. Whether you are looking for support or just want to chat with other parents about the joys and challenges of parenthood, we aim to provide a comfortable environment where this can happen. We host regular events at our nurseries where you and your child can come and have fun, learn something new and meet other local parents. These are fantastic opportunities to give you the time and space to network. So come and ask us about what events are coming up in your nursery.

We would love to get to know you and your little one more. So come and discover how your local Bright Horizons nursery can support your family by booking a personal tour here or calling 0330 134 7108.

To find out more about NCT, please visit www.nct.org.uk.

NCT Member Free Registration Offer Terms & Conditions (01/10/2017 – 31/12/2018)