Seventy-five Bright Horizons employees, friends and family in total took part in sponsored walks across Manchester, Northampton, and London on Saturday 20th May. The three walks were organised to fundraise for the Bright Horizons Foundation for Children.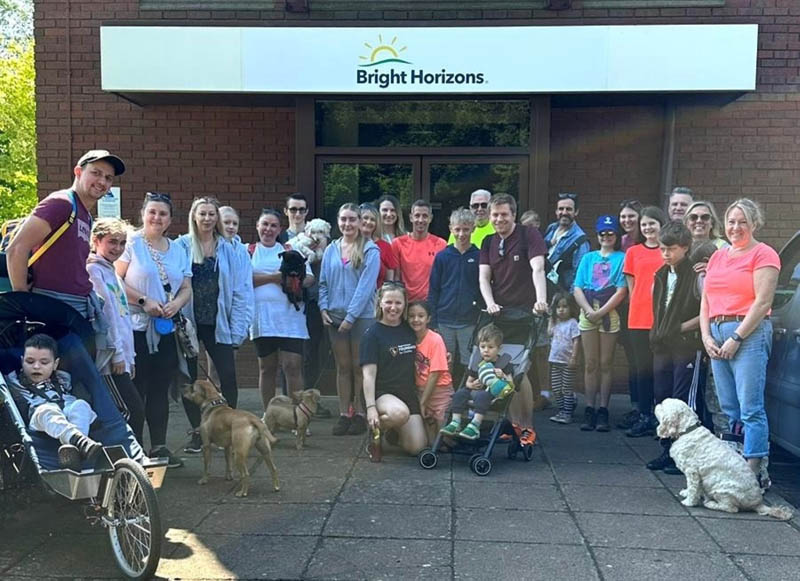 The walks raised over £4,000 towards the cost of two Bright Spaces being created in domestic abuse refuges in London and Salford, in partnership with a Domestic Abuse charity in Manchester.
The Bright Horizons Foundation for Children, Bright Horizons' registered charity, is focused on improving the lives of vulnerable children and families experiencing crisis and disadvantage. Its Bright Spaces are enriching play environments for children impacted by domestic violence, abuse, homelessness, parental imprisonment, and ill health, and are designed to help children heal from trauma through play.
The walks were organised in memory of a Bright Horizons employee who was tragically killed at the age of 29 by their perpetrator. Bright Horizons is part of the Employers Initiative on Domestic Abuse and has pledged its commitment to raising awareness amongst its colleagues about the many forms of domestic abuse that can take place.
The company work towards providing an open environment to give colleagues support and guidance if they are a victim of abuse and have policies and procedures, which implicitly acknowledge and take into consideration the possibility of colleagues being at risk from and living with domestic abuse.
Denise Priest, Executive Director at Bright Horizons, and Trustee of the Foundation said: "To be able to bring together our people to fundraise and create these Bright Spaces is a huge honour. We're delighted to be working with the Domestic Abuse charity in Manchester to make a difference to the women and children they support, in memory of our colleague."
For more information about the Bright Horizons Foundation for Children and the work that it does then please visit here. You can also donate to their Just Giving page here.